2016.01.29
Omron Healthcare Wins "iF Design Awards" for its Activity tracker and Oxygen generator
KYOTO, Japan-Omron Healthcare Co., Ltd. received iF Design Awards for activity tracker and oxygen generator in this year's competition.
The iF Design Award, presented by iF International Forum Design GmbH, is one of the world's most prestigious design awards. Products are rated on uniqueness, innovation, aesthetic appearance, usefulness and eco-friendliness as well as performance, quality and price. This year's competition drew 5295 entries from 53 countries, of which 1821 products received awards.
Omron Healthcare received the iF Design Awards for ten consecutive years since 2007.
Going forward, Omron Healthcare will continue to approach product development from a user perspective and with a focus on accuracy and ease-of-use under our design concept, "Shaped for people.".
Received Award
iF Design Award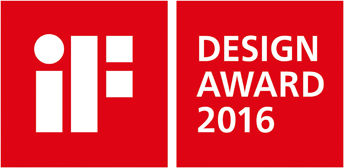 Award-winning Products
●Activity tracker HJ-327T
The HJ-327T activity tracker is designed for women who want to increase activity and make exercise part of their day to day activities without going to the extreme. Its ultra-compact form and removable clip makes the monitor highly versatile and able to be worn unobtrusively across a range of attire. The monitor is water resistant with no buttons; simply tap to change the display. Previous results and personal history are viewable on a smartphone app via a Bluetooth connection. The simplicity and ease of use of the HJ-327T activity tracker helps women to blend more activities into their daily life.
Available in U.S.A.
●Oxygen generator HAO-2200/HAO-2210
The HAO-2200 and 2210 are oxygen generators for in home use by middle-aged and elderly people. Breathing higher-concentrations of oxygen can help combat fatigue, boost concentration, and is commonly used for treatment of mild respiratory or circulatory disorders. Designed with a focus on efficiency, ease of use, quiet operation, and portability; the oxygen generators achieve a high degree of functionality and robustness. It has earned certification as a medical device, so customers can use it with confidence and peace of mind.
Available in China.
Corporate Info

Products

Related information